Hi friends,
Sorry for the delay in my blog, WordPress wouldn't open last night, so it was not emotionally prepared for me to watch and blog about the show last night, so here you go, a day late!
We are going to be in Switzerland this week and believe it or not, it's a PERFECT place to fall in love. We see the Swiss Alps from the hotel with the guys and all I can think of is this:
And dang, if I don't LOVE the Sound of Music. Though I gotta be honest, I had no idea half of what was going on in that movie when I was a child. I knew the had to get to Switzerland because they were running away from bad people, didn't realize until much later that it was Nazis, but you know, I digress.
The guys remind us that we have hometowns coming up next week, so this is a HUGE week. All the guys want the 1 on 1 dates.
DANG we are NOT doing a rose ceremony this week! Rachel is making up rules! We have 3 one-on-one dates and then a 3 on 1 date. The first 1 on 1 date is Bryan, shocking! All the guys know that Bryan is the front-runner.
They are dressed up and it's a luxury date. They're gonna be driving in a Bentley. Rachel talks about how she likes to treat her guy well, but she's really going to treat her man well now, Bryan this is not Rachel paying a dime for this, this is ABC paying for it. They go to a watch store and Bryan gets a fancy watch. He's getting Pretty Woman'ed here and getting all the fancy items, because you know she'll be your sugar mama when you get home and she'll keep buying you things.
They have chemistry, I cannot deny that. And I don't think he's a horrible person. I just don't see them talking much and he inhales her face when they kiss, but I guess she likes that kinda thing.
She talks about how he's too good to be true, and I agree. I like him, but I'm suspicious and Rachel, you're a lawyer and smart girl, you gotta follow your gut here! If you think he's too good to be true, he has to be.
I saw this tweet and I'm not that shocked by it.
He manages to steer conversation away from him, she's trying to get to know him, but he talks about how he grew up in a loving household, and the only rebellious thing that he had going for him is he wanted an earring. He seems like such a player, I don't trust him Rachel!!!! Especially when they start talking about her school experience in a private school, which had a uniform and he starts getting pervy about it and trying to figure out if it's the Catholic school girl uniform. Well Bryan, hate to break it to you, but when I was in high school, my Catholic uniform was a polo shirt (rolled, to appear to be tucked so I didn't get a demerit) and pleated shorts or if I felt real fancy, a skort, not the sexiest image in the world.
He talks about how his last relationship was a fling, and when the girl met his mom they ended up breaking up, so of course he's nervous to introduce her to his mom, but she's willing to take the risk and shockingly gives him a rose. They make out as they're serenaded by a string quartet, and I could handle more music and less kissing noises. If you're going to swallow her, you gotta give her a chance to breath, or she may die!
We've got Dean and Rachel on the next 1 on 1 date. They are dressed in their Sunday best. They're going to a Catholic Mass, and it's going to be in French. She's never been to a Catholic mass before and she says if it's horrible they can just leave, and he looks horrified and said they can't do that. She proves she hasn't been to a Catholic mass before because she's talking out loud in the pews and during mass, and I'm really tryin to get a grasp on if Dean is Catholic or not, he seems to know the etiquette a little better. She does say that faith is very important to her and it's going to be a big thing for whoever she's with to respect that and her faith, but they don't have to worship the same way….but then she talks about how today isn't a day for religious belief talk, church is about tradition and community, which I get, but I'm sorry, when I get engaged the guy will know that I'm Catholic, that's not a conversation we'll hold over until after the engagement.
After church, Dean has Rachel waltzing in the square. Rachel talks about how she wants to challenge and deepen her relationship with Dean, but I have to say that it seems their relationship is deeper than hers and Bryans, but what do I know.
Peter & Eric are back at the hotel talking about how it's a surprise Dean & Bryan got the 2 dates so far and is it because she had questions still for them? They're freaking out wondering if they're gonna be chosen or not. This is the last time we get the guys to have conversations and hash it out together, after this week, they're separated and won't see each other again, until they go on trips together.
What I appreciate about Dean is that he's not putting on a show saying he has this wonderful family environment. He's saying that it's going to be awkward. And while I'm sad for him, that's a reality that in all the years of this show, we haven't really seen. We've seen everyone sweeping things under the rug, and introducing the Stepford families. And God Bless Dean, he's honest and genuine and isn't going to play that game.
Rachel puts Dean on the spot and wants him to open up to her and is getting frustrated, and humor is his defense mechanism and he doesn't like attention on him.  He's endearing, because he doesn't want to be the center of attention. He likes this girl and doesn't want to share all of his deep and dark scary thoughts on the 2nd date they've been on. It's refreshing! I love Dean, I know she's not gonna choose him, but I love him!
Peter is getting the last one on one date, and bless Eric when he finds out, he says if Dean comes home tonight, he will now think that Dean, Peter & Bryan are the top 3, and you all thought Eric was just a pretty face! See he's able to put 2 and 2 together.
OH DEAN!!!! I love you man!!! He finally opens up to Rachel and talks about how his dad when he was growing up was always the fun, let's go and do this type of dad. More of a buddy than someone looking out for his well-being. And after his mom passed, his dad didn't fill that role. He stayed a buddy and that took a beating on their relationship and I guess Dean's dad has become more eccentric.
And then Dean says the most heartbreaking thing, about how he wishes Rachel could meet the family he had in his most fundamental years of -0-15 and not the family that abandoned him in the most vulnerable stage of his life. And all I wanna do is give him a big hug so he knows he's not alone and people care!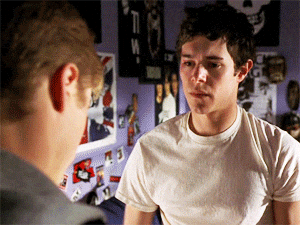 Dean gets the rose and tells her that Aspen will be weird, but she said she's ready for it. He has to now stay until the Final 3 because you can't send him home after his crazy family!
Peter & Rachel get a helicopter ride to go to the Alps. They're able to see everything as they are flying above and keep pointing items out to one another. Rachel asks him if he realizes that he had the very first 1 on 1 and the very last 1 on 1, he points out that yes, he is aware and has been in his head plenty. Rachel tells us that it's something that Peter has been able to not only keep her attention this whole journey but has grown their relationship even with the delay in dates.
They got to go dog sledding and are now sitting in the snow having a talk, and I have to tell you that it seems like that is the most uncomfortable place ever to have a conversation! This is where I would want Bryan's tongue to attempt to keep me warm. Or at least give me some alcohol, I know it'd actually end up making you colder, but the burn would be worth it initially making you feel warmer. Poor Peter doesn't even get a hat and has the salt & pepper look working from the snow.
Peter talks to Rachel about how he went through dark days that he had thought about leaving, because he saw Rachel dating other guys and he was scared, but wanted to stay because he trusted their connection. And now they start making out by lying down in the snow, which is probably not what I'd do, but tomato/tomato I guess.
Peter gets chocked up when he's talking about how his last relationship ended with him driving away from his ex, and it was an amicable break-up, but she waved goodbye to him as he drove off, and was crying. Peter has held onto the guilt of hurting that girl because he couldn't love her the way she loved him. He basically tells Rach, that if he's the last one standing, he'll propose if he's in love with her, but isn't gonna propose just for the sake of proposing and now all of a sudden she's scared that he may not choose her, even though she hasn't chosen him. Rachel ends up giving him the rose and ready to take him to hometowns.
This always confuses me each season. Love is a true partnership, right?!? Give and take. So just because one person chooses to love you, that doesn't automatically mean you have to love them. You have free will and intellect. Whenever on the show, a chance comes up where someone shows some hesitancy, the lead normally goes with the "sure-thing" though the "sure-thing" is just the person who knows what to say, and very rarely do they end up together and the lead would most likely be in a better position if they chose the person who is honest about their feelings and having doubts, as any sane person would in this situation!
Alright, now we have the awkward 3 on 1 date. She's going to have to say 2 hard goodbyes today. They are going on a boat to France and Eric is so stinking cute, he starts jumpin up and down because he's so excited.
Eric is so sweet when he gets his chance to talk. He tells her he knows this is a difficult journey and it's been taxing, but she deserves it and has earned the right to be selfish. He says all these phrases, but I believe him! I don't think he's telling her how strong she is so he can get a rose, I think he's saying it because he honestly believes it. Eric has such a youthful/genuine quality about him, that I can't help but smile when I see him and Rachel interact because he's so smiley and realizes how cool this experience is.
Matt's one on one is cut short when she decides to send him home. She's really broken up about it and in tears as they say goodbye. She can't say anything bad about him, and he seemed like a really sweet guy, but there just wasn't that connection and passion there with them, that was present in her other relationships, but you can tell she cared for him as she really breaks down watching him leave.
The night portion of the date has turned into a 2 on 1 date, with Adam, Eric & Rachel. Adam has been confident this whole episode and I don't know if it's so we as an audience member can remember who in the world he is, as he has certainly been flying under the radar this season. Or the have made him confident this episode, so when he doesn't get chosen we feel more sympathy for him.
Eric tells Rachel he's never brought a girl home ever, and at 29 that's a huge red flag for her and could be his final nail in his coffin.
Eric gets the final rose and he's overcome with emotion. Let's be honest, between Adam & Eric, they're just fighting between 4th and 5th place. I think it means more to Eric though, so I'm glad he got the rose. Adam's pissed in the limo and doesn't have the most grateful exit, he thinks she made a massive mistake. Rachel cries, but not to the extent as when she told Matt goodbye, so I don't think she made a mistake.
Alright, next week's hometowns look like they could more interesting than normal, poor poor Dean! I'll see you all back next Monday!
Lindsay