How bizarre is this?!? We're still in Dallas so the guys can meet Rachel's family. I'm shocked though, because we have all 3 guys in a hotel suite with Rachel. Normally the guys wouldn't see each other after it's the final 4 for hometowns. They're meeting the family now because Rachel's sister is 8 months pregnant so she can't travel to the exotic location.
Alright, so Peter is the first one to meet the family. Rachel & him go into a chic baby boutique and are going to pick out an outfit for Rachel's new niece/nephew and the big brother who's going to be 3 in July. I love Peter because he's smart enough to ask the size of Alistar the gonna be 3 year old, and Rachel talks about how he's a big guy, and he immediatly thinks that he's in 3 or 4 T clothing. Peter gets it you all. And Peter falling in love with these baby clothes and outfits and shopping for baby things has me even more in love
Rachel asks with a onesie if it's 1 size fits all and Peter laughs at her that it's not how it works, but he doesn't make her feel stupid about it. I feel you can tell that Peter knows more about kids than Rachel does.
We have Bryan and Eric in a hotel room talking about what Peter is feeling and how Peter may not propose at the end of this. How in the hell does Bryan know this? Is a producer feeding him this info? Did he see footage that no one else has seen because he knows more about this, than just a normal guy should know, especially since Peter & Bryan don't seem like besties.
Peter stops Rachel and sits on the stoop of Rachel's family house, by talking about how Peter is falling in love with Rachel, and she tells him she's falling in love with him too. He also tells her that she means the world to him and he wants her to feel confident in bringing him home to her family before they go inside.
Peter is meeting Rachel's sister, brother-in-law, mom, girl cousin and aunt & uncle. Rachel's dad will still not be appearing on camera, he didn't appear when Rachel had her hometown on Nick's season either.
Rach's family asks about Peter's family life. He talks about how his parents met when they were 20 & 21, knew each other a month and were proposed and have been married now 36 years.
Peter is very eloquent when he's talking to Rachel's family, he tells them how skeptical he's been about this process, about how even though he's been skeptical, him and Rach hit it off the first night, and have built their relationship slowly, and it wasn't until he saw her at the rose ceremony last night that he realized he missed her and is falling in love with her. He has won over the family with this declaration.
Rach's mom asks Rach what her red flag is with Peter and she says that she's worried he may not propose in the end. Rach's mom talks with Peter and ends up leaving it by telling us the audience that she knows Rach came on this show to end up getting married, but she appreciates the honesty that Peter brings.
We have Bryan & Peter now in the hotel suite talking about how Eric hasn't met a family in 6 or 7 years. Bryan talks to Peter about how he wants to show the family their chemistry….oh yeah and the bond that they have….oh and I've found out now that Peter didn't ask for her hand in marriage, so now I want to do that as well.
Peter always the level-headed one talks about how Bryan is being ballsy and arrogant. What he tells Bryan is that there are things in all of their relationships that are different and unique and it's weird to be sitting here with Rachel's boyfriend while her other boyfriend is meeting the family.
And then Peter gets as real as you can on this show while still being a gentleman and polite and making me still really like him, by looking Bryan right in the eye and telling him something we'd all love to tell him.
Eric & Rachel are on-top of a huge building and looking out and enjoying the sights of Dallas. Eric went home for Senior Prom and with a girl he dated in college. Rachel wants him to be himself and talk about how far he's come.
Rachel's family recognizes Eric from the finale when he was introduced to Rachel and they do his "HEY" dance with him. They ask about his family and you can tell that Eric's family is completely different than Rachel's family. Rachel's family enjoys that he's not a fairy tale person, he's real and mature and understands he hasn't been in love before, but he's very upfront and knows how he's thinking and where he's coming from.
I have to say that Eric has grown on me this season. I'm surprised that he's warmed his way into my heart. He ends up asking for Rachel's mom's permission to ask Rachel to marry him. She agrees, because I'm pretty sure she's contractually obligated to do so. I like Eric, but am concerned that this guy is gonna get his heart broken. I want Eric to get married and have a family, I'm really rooting for this guy and it constantly surprises me!
Now we get Bryan to meet the family. I have to say that Peter & Eric in the hotel suite is the least awkward combination that we've had. And again Peter endears himself to me more when he admits to not being a Bryan fan, and talks about Bryan's confident Miami swagger and in Miami there's a lot of fake boobs, asses and cheeks and Eric thinks that he's not gonna be as smooth after today.
Bryan is going to meet the 2 girls that signed Rachel up to go on the journey of Nick's season. Bryan gets all cocky when he finds out that the other guys didn't meet the friends. Bryan is way too smooth of an operator, he knows what people want to hear and he gives him the spiel, and does it all on his terms, so you think he's opening up, but then realize he's only telling you information he wants to share.
We now get Bryan with Rachel's family. They start with the tell me about your family and again I notice how he's not as open as Eric & Peter were. He talks about his parents being together almost 40 years and that he's his mother's only child…..that struck me as odd, does that mean his dad has another child?!?
The family sees thru slimey Bryan and his use of the word LOVE so quickly. They ask where the loyalty will lie if Bryan's wife and mother bump heads. Bryan says with the wife, but that they'll need to get along. Rach's mom said sometimes that doesn't happen, where does the loyalty lie? Bryan has a deep sigh and that says EVERYTHING, but while Bryan is deep in thought not answering, Rachel jumps in and says he already answered the question and answered the wife. Rachel's mom is not impressed. Neither is Rachel's sister…..actually everyone seems super uncomfortable, because the other 2 guys have talked about how it's been a slow burn and have been a lil awkward, but have opened up and shared without needing to be pried open. Rach's family notices that Bryan is a charmer and is insincere so they have to ask more questions and Rach is SUPER uncomfortable, which should tell her everyone she needs to know, but you know she's going to ignore this.
The BEST tweet ever has to go to Tanner with this tweet:
As we all know, this did not work well with Andi when she chose Josh over Nick. We know that Rachel is going to make the same mistake, but then here's hoping that Peter will be the Bachelor 🙂
You can tell that Rachel's family feels the same way, they like Peter and Eric way more than Bryan, but that's not gonna matter to Rachel, I still think she's gonna chose Bryan but that's gonna be a big mistake.
We're in Spain now with Rachel & her 3 guys. She's hoping that when she leaves Spain she'll be leaving as an engaged woman.
Eric gets the first one-on-one date in Spain. Eric gets to go on his first helicopter ride. They get to walk up to some castle, look out and see the sea and old buildings and they keep laughing and really do enjoy one another. It is pretty easy and relaxing for the 2 of them. You can tell that Eric & Rachel are equal partners in this, they challenge one another. Eric is more serious, and Rachel challenges him to be honest about his feelings. Eric challenges Rachel to not take herself so seriously and lighten up. Eric tells her that he's in love with her, and he's tried to run but she wouldn't let him and he's super happy right now and has never been this happy with a girl before. She's smitten and they make-out and get the forego their individual rooms and go to the fantasy suite card. They have a wonderful night, and get coffee in the morning. Now that Eric has told Rachel he loves her, he can't stop saying it and dangit if I don't believe him!
Peter gets the 2nd one-on-one date. They are going to explore a vineyard together. They get to go into a cave and see all the great wines that are around. Rachel admits that Peter is reserved but he can read her and gets her unlike anyone else on this journey. Raquel & Pedro have their own locker with all this wine in the cellar that this cute old Spanish guy gives them.
Peter & Rachel talk about how they are a good balance for one another and how that is what their family saw in one another as well. Peter talks about how engagement is a direct correlation of marriage. Basically Peter admits he wants to be engaged once. They are in the middle of a conversation and believe it or not, another adorable child comes and talks to them and then they end up stomping grapes and living out one of my favorite childhood scenes in one of my all-time favorite tv shows: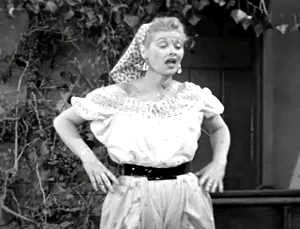 At the night portion of the date, Rachel & Peter are talking about where they stand on the engagement and end of this whole journey. Rachel talks about how she didn't come this far and put her life on-hold just to walk away with a boyfriend. She needs a proposal. At what cost, it doesn't matter. The fact that the guy is insincere and they'll be broken up within 6 weeks because Bryan's Mama doesn't like her anymore, won't matter because she got her engagement. Even though she could have a loving boyfriend in Peter.
Twitter was on a roll last night, because this Tweet was also spot-on:
This is another very true tweet. Becca was the one Chris wanted to choose, but she wasn't ready for a proposal and wasn't a sure-bet, so Chris went with Whitney who was the sure bet, and where are they now?!?
We end with them talking about how they are on polar end of the spectrum of this whole engagement thing, but neither know where they're going to go and they don't know where to go….and we end up with a "TO BE CONTINUED" does this mean that's a way for us to think that Eric will be in the final 2, but he won't. I can't believe we have a To Be Continued to lead us into the final 2 and the engagement, how crazy is that?!?
Next week is the Men Tell All, it's going to be a train wreck, that I do not see myself bloggin about, because it's gonna be the same old, same old I believe.
We're 2 weeks until the finale! We've ALMOST made it!
Lindsay